Beats
BRAIN FOOD – Mada x Signs x Sks – ASR015
Trap / Bass music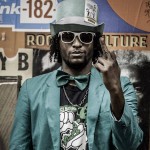 Artists:
Mada – Signs – Sks
EP ASR015 All Right Reserved © 2016
# Brain food an original ep created by Mada, Signs and Sks. Mada is a singjay hip hop, reggae dub cross over come from surinam, he started with sound system and made a long road to bass music and drum and bass, he is now coming with is original project Brain Food.Mad tunes between trap, electro music and a touch of neuro and jump up, the sick music is baked by is partners of crime Signs and Sks well known in the drum and bass and bass music business due to their releases on, dissected culture, chronic, trouble on vinyl, vandal rec, 36 Hertz and Kosen prod.
# Brain food est une création de l'artiste Mada accompagné de ses acolytes Signs et Sks.
Mada, Mc tout terrain venu tout droit du Suriname, originaire du rap et du reggae dub, il à posé sur de nombreux sound systems et à évolué vers la bass music et la drum&bass pour vous présenter son nouveau projet: Brain Food.
Une experience à la frontiere entre trap et electro, des touches de neuro et de jump up confectionnés par la team Signs et Sks bien connu dans le millieu drum&bass et bass music, nottement grace à leurs sorties sur Dissected Culture, Chronic, Trouble On Vinyl, Vandal Rec, 36Hertz and Kosen Prod.
Available now on: